I just got back yesterday from a vacation in my hometown~ Masbate. It is just a small island at the very center part of the Philippines but how could it be that every time I told people this place, they automatically raises their eyebrows until I said "Bicol". Seriously how could you missed this L formed island~ means Love or a Gun means War that was placed at the very center of our map?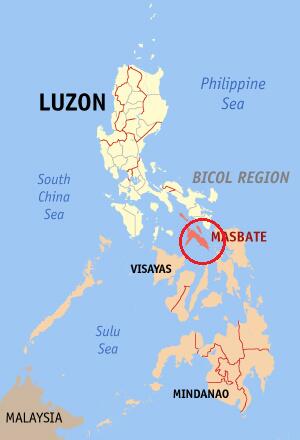 Nevertheless, this place is one on the poorest island in our country, but I consider this place as my heaven and my getaway from the busy and tiring life in the city. It's still the same. The life and progress were quite slow. The night was still peaceful and cold. My cousins are now grown ups and most of them have their crushes and boyfriends already, some even have their families and kids. I admit, I'm already at the age of getting envy to those who already have little ones. When can I have mine? Anyway, I guess, I'm still not ready to have a family and be a mommy. Bet, Lulu is also not ready yet and he is still so busy 😛
My mom were surprised when I arrived. I didn't tell. They thought, only Louie were going home. She's still the same. She's calm until you get to know her, just like me! haha.. but.. she didn't ask me to do errands, or clean the house or cook or wash the dishes. It felt odd even though I am a lazy person for these kinds of household chores. I  still wanted to be treated like the way she treated me when I was 16, but she thought otherwise now…I'm already an adult. My lola~ was getting weaker each year I went home. But hey, she's a strong lady! It's just that, it can't be help. My Titas are still the same~ Mama Hil's no longer here though. She passed away the other year~ leaving her 3 months old younger baby (Jeefrey). I'm close with my Titas on mother side. My cousins, are now in their high school and college. Well, most of them. Some already stoped. 😦 and Jeefrey is now turning 2 years old this May. He can now walked on his own and he knows me as his Ninang!  I wish, he will grow as a good kid.
We celebrated Christmas at Lola's house. It's just a simple one. My cousins and Louie went to church but I didn't because it's raining. It's not easy as you think, the church is 7  kilometers away. You have to ride on a tricycle or motorbike but you have to walk for 30 minutes first gong to the main road. So I just stayed at home and slept. New year, we celebrated it at home. It's really simple. Province life is about simplicity. I only made salad. ( I can only make those things that can only be mixed and poof!~ it's done). My mom made pancit, adobo, and biko. I told her not to make more.. it can't be eaten anyway. You eat more when it's less but when you see so many varieties of food, you suddenly felt so full.
Overall, the two weeks vacation were worth spending specially if its with your family. No matter how busy you are, or how good you're life will become, it's still nice to visit on you're root so that they will not missed your face and so you are with them.
I grow up on this place. Everything's green around you, blue above you. No traffic. Just perfect. I will go back in God knows when. May He protect and love this place forever.